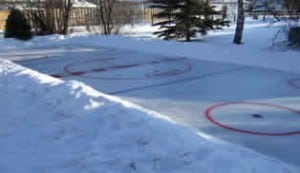 How to add a face off circle or lines is a common question. We're also asked if our liners have lines? The answer is 'no' but you may be able to purchase a line alternative separately and we will get to that later. In the meantime, if your rink is in a full sun area, read on.
1.) If you have any experience with building rinks you know what happens when a leaf or other dark object freezes in the top of your ice. The sun is attracted to the dark object and heat is generated and a hole is melted and sometimes as deep as 3 inches in a day. Imagine your rink now with blue and red lines or face off dots. In a perfect rink world, the sun would not come out and melt those areas but we love the sun and the sun loves to shine and not being able to use your rink on sunny days would be a disappointment. In short the slushy areas would be many and your skating surface would be ruined. As you can see the rink above is in almost complete shade. 
2.) In our area, almost without fail, while the water is freezing there is some snow falling. This snow, then is absorbed into the rink water and surface area, turning it white. If your white liners had lines or dots then chances are you would not see them as they would be obscured from view.
So now the only real opportunity to add lines is if your ice surface is shrouded in cloud or in a treed area with minimal exposure to the sun. Of course you can always add them after your rink is frozen. There are very few people that can add lines because only a few rink builders have shaded areas.
Pictured here is the Ultimate Outdoor Rink alternative.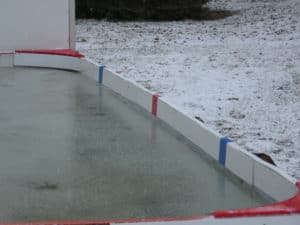 These pieces of puck board are the line markers that are the most effective for marking your blue lines and red lines for your rink with out destroying your surface. They are drilled for fastening to your rink framing material and to your boards top edge.