Corner Seats & PuckGoRounds
Set of 2
Another multi-functional product from The Ultimate Outdoor Rink. Bring out the rink master in you. Use your TEP (Top Edge Protect) , Corner Seats and PuckGoRounds on your Ultimate Sand Box.  Can be used on your Basement Rink Corners or your outdoor rink too!
Ulti Mate with many, many color options.
This is a Presto Install accessory.
What is a Presto Install? It is an accessory that takes little time and effort to install when assembling your Ultimate Rink.
Get the Ultimost from your Ultimate. It's for your family. Can you picture your children and their friends gathering for shinny or a skate?
TESTIMONIALS….. Real comments from real people!
"I have done a ton of homework, I am an engineer, and your backyard rink and rink liner system are easy and just seems to make sense. And yes you can quote me."
Stephen Redick – Toronto, ON
"YOUR BACK YARD ICE RINK PRODUCTS ARE well thought out, functional and reasonably priced. Thanks for making it all happen for us!"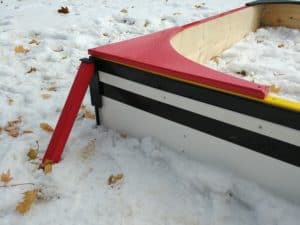 Description
Made in Canada
Corner Seats
Available in a set of 2. Our Corner Seats are drilled, counter sunk and have beveled edges. Currently available in black, blue, red and grey. They are 7/8″ thick x 24″ x 24″ with a 35″ arc length. The seats will act as a seat for your child or a storage unit for your pucks or beverages. If you wish black Corner Seats we now stock this color. The Vegas Golden Knights and many other pro teams use black and grey as one of their uniform colors. Hi lite your rink with black accessories for a stunning look. Don't worry about black as a color as long as you do not install black at ice level. See out 25th Anniversary Rink for black hi lights at their best or see below.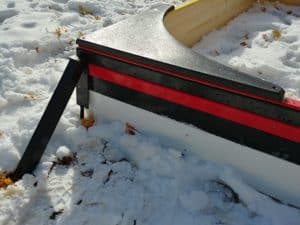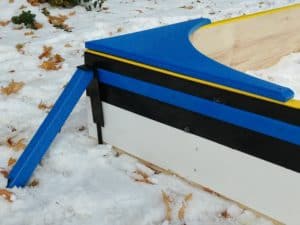 Check out our Most Functional Corner System video to see how to make storage compartments in your very own Ultimate Rink!  Versatility means Ulti Mating to get the Ultimost. 
Utilize them as your sandbox corner seats in the summer or turn them into storage areas for your ice rink or your Rec Room Rink. Now that's functional and versatile. Also can be used on your basement rink too!
PuckGoRound Corners
PuckGoRound Corners come in a set of 4 and are drilled, countersunk and have the top edge bevelled.
The sizes of the PuckGoRounds are slightly narrower than the coordinating lumber sizes:
(35″x5.5″) actual size
(35″x7″)actual size
(35″x11″)actual size
There is even a calibrating screw hole for final detail install. If you have watched the video below, you will also know that there is a special storage place to keep your beer cold! Now that…. is Ultimate for the Ultimost….a beer after the game!