40″x41″ Dasher Panel (3 pk) Shipping Friendly
Canadian Dollar Pricing
*Please note Covid: UPS and FedEx may experience delayed shipping times.
This page features 48″ X 48″ and 40″L x 41″H White Puckboard Sheets.  The 40″ x 41″ size white hockey rink panels are 1″ less than regulation height hockey rink boards in your local arena.
We also offer puckboard drilling, counter sinking and edge bevelling services. Click on your
"choose options below" to view.
Below are links for other puckboard products for your basement or outdoor rink.
4'x8′ puckboard sheets for walls and boards
easily shipped Puckboard wall panels and boards
Description
White Puckboard Sheets/Plexi Sheets for Backyards and Basements.
If you would like regulation height we recommend you invest in the 41″ x 40″ size and add the accessories that best suit your needs to make up regulation  42″ – 44″ high.  We recommend starting your install at the 1″ mark which will be then hidden by your kickplate. Alternatively add a 1.5″ 0r a 3.75′ top stripe to complete your look and achieve regulation height as well. Puckboard sheets ¼" (.220) thickness are recommended for walls and boards for basements, boardrooms, offices and your own backyard rink. Arena board/hockey rink panels for Rec Rooms and backyards are Canadian high quality puckboard materials.  U.V. protection is available  on red, yellow and blue. Price breaks for 4′ X 8′ Puckboard sheet quantities are available. Feel free to call the office for any puck board sheet questions. 1 800 448 6648 
Please use the order page check out "comment section" to make a clarification on your order or find out about Lexan (plexiglass) if necessary or call 1.800.448.6648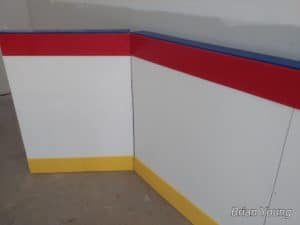 Click the below picture for your link to Puckboard/Kick plates and Top Stripes