7 Ply Ice Rink Poly, Gold Standard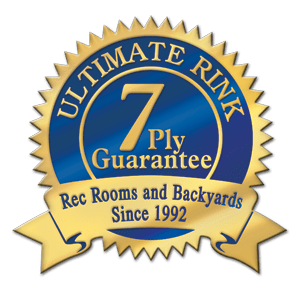 7 Ply ice rink poly, Gold Standard. This world class poly offers you ease of use. Your heavy duty 7 ply ice rink poly offers durable solutions that are easy to work with in the same format we have used for 15 years.
Why is our World Class 7 ply Rink Poly the NEW gold standard, but it's white!
Our heavy duty, 7 ply ice rink poly was brand new 2015. We are proud to present this amazing gold standard ice rink poly. The factory has just spent many months re tooling and have invested 10  million in an upgraded to their new state of the art production facility giving us the opportunity to offer this amazing 7 PLY product. WE ARE THE EXCLUSIVE SUPPLIERS OF 7 PLY PRODUCT.
What's new and still the same?
NEW 7 ply factory welded layers guaranteed. Absolutely no layer separation.  Guaranteed!
An even thicker heavy duty poly than we have offered since 1992  Guaranteed!
Same massive amount of U.V. as seen in our "9 Month Thumb Test" video. Guaranteed!
Same built in Stretch Factor.  Guaranteed!
Same built in Rip Stop.    Guaranteed!
Same amazing cold crack resistance to -45  Guaranteed!
What does this mean to you in simple terms?
Easy to work with and especially with the bigger sizes.  A strong, tough, dependable, multi year liner if you are offering your liner some protection, bar none.       We are going to ice your world!!