PuckGoRound Corners (4)
PuckGoRound Corners
PuckGoRound Corners are amazingly simple, instant and go great with your Corner Seats. The rounded corners help keep the puck in play. Turn it into a storage area for pucks as well. And after all that play, children can take a seat inside the rink to relax, before the next match!
PuckGoRound Sizes:
5.5″ x 35″
7″ x 35″
11″ x 35″
See pictures of PuckGoRounds and Corner Seats in action
**Check out the product description below for our versatile PuckGoRound Grate Corners!
Maintaining your rink surface has never been so shockingly simple!
Description
Made in Canada
PuckGoRound Corners
PuckGoRound Corners come in a set of 4 and are drilled, countersunk and have the top edge beveled.
The sizes of the PuckGoRounds are slightly narrower than the coordinating lumber sizes:
(35″x5.5″)actual
(35″x7″) actual
(35″x11″) actual
There is even a calibrating screw hole for final detail install. If you have watched the video below, you will also know that there is a special storage place to keep your beer cold! Now that…. is Ultimate for the Ulti most!!
ITS HERE!!!
The Grate PuckGoRound Corner  to help clear your rink of water when it rains in one of those mild spells. It is especially important to keep your rink clear of all water  previous to  a freeze as what follows next is almost always snow and wind. With very minimal water there is nothing for the blowing snow to stick to and your surface remains aaaamazing!!!  Less work is the goal. This is the Ultimate.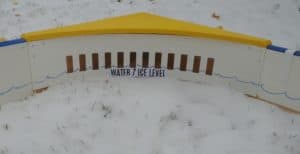 These are ready for Presto Install.
Presto Install means it takes very little time.
**** Imperfect Lawns
After 28 years of building rinks in every setting, on every surface, in every weather condition and handling a myriad of sloped situations we understand what it takes in your backyard. There isn't a perfect yard anywhere unless you have spent time on it. Shims, lifts and fills are a normal phenomena. Dips and hollows and slopes are a regular occurrence. SPEND TIME ON THIS ONCE TO SAVE YOU SOME GRIEF PREVIOUS TO YOUR ASSEMBLY PROCESS. We have been advancing the art of backyard rink making for 28 years. We know!! We can answer any question you may have and direct you with professional advice and this is not just to make the sale! We wish to be a part of your success! Our Guru is almost always in house.
"I did much research  on this and you have the widest selection and are able to handle almost any site situation. You share the information rink builders need and quality products for handling slopes and every one has one. A beautiful outdoor rink fairly priced "   
 Kevin         Georgetown    2019