Wall Corner System (with or without cap)
"Turning your home into your playground"
Indoor or Outdoor Rink Corner Install: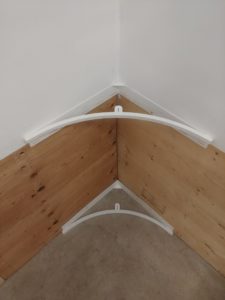 Naked Corner for the Basement Wall Install System. $195  per corner includes 2 pieces. Upper and lower as shown.
Lower now in yellow to match your yellow kickplate. Does not include Corner Caps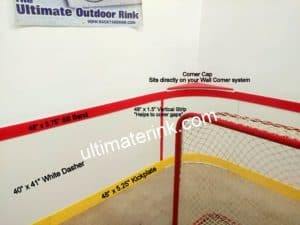 Labeled Basement Wall Install Corner System Complete with bling.
Description
Your Basement Wall Corner System is Here!!!
Our product development team have created a basement rink Wall Corner System for your full rink set up against a wall. Our patented basement rink Wall Corner System will seamlessly integrate into either a plain wall or a puck ledge wall. Talk about authentic……actually we are inclined to say "Ultimate". The plain basement rink Wall System as shown in the pictorial is approx. 25″x25″ will also fit you outdoor rink corner if using the 4′ x 8′ plywood square 90 corner set up or a 40″ – 48″ stud wall set up.
Each corner features 2 frame pieces that accommodates the Dasher Board by sliding it into your Wall Corner. They, then can be part of your continuous Dasher Board wall system.  Each set of 2 frame pieces with the top bracket manufactured  in powder coated white enamel and the lower in yellow enamel to match with your yellow kickplate. Keep your children out of hot water, put them on Synthetic Ice. Synthetic ice not available from Ultimate Rink.
All prices are in Canadian funds.
Need a Gate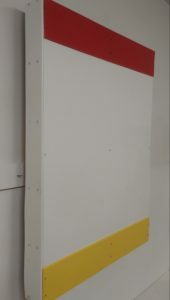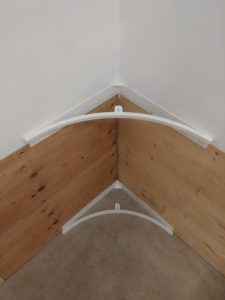 Lower corner now in yellow