5′ TRU Corner (4)
TRU  Corner System
The TRU Corner System 2022/23 features a 60″ total arc length.  Easy set up, easy tear down and stunning good looks with Liner Protection included. Backyards never looked so good! Real Rinks for Real Yards. We are turning your home into your playground!!! The last 4 silver and 6 blue are now on sale. Call or email us for your pricing quote today!
Please Note: These corners must be ordered in advance with a 10 week lead time.
***Best if ordered in August for the winter season***
Description
Corner Options for the Ultimate
Deliberated, Designed, Developed and Decided
25th Anniversary Edition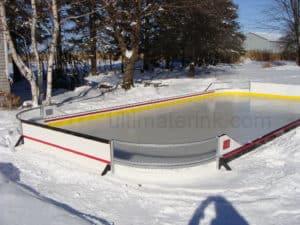 The  5′ x  11.25″  TRU Corner System x 2 = total height of 22.5″ H ends with 11.25″ step over sides shown  above on our 25th Anniversary edition. MUST BE BUILT ON A LEVELSITE FOR BEST RESULTS.
Let's talk about the"TRU" System  (TRU is pronounced TRUE)
Shown in gallery and above is our dbl stack 2018/2019 TRU corner.  TRU Corners feature a 60″ arc length 22.5″ H in 2 pieces per rink corner for easy install and shipping (likely an LTL transport or a pick up item.) All Puck Board and Plexi are pre-drilled for your cable tie "Presto Install" by sliding into their own channel with NO nuts and bolts.
Each patented 2019/20  TRU Corner upper level is the same size as the lower level  and stacks, fitting into the lower level upright, giving you a stunning look and locking everything into place. The 25th Anniversary TRU Corners feature your option to stack for a 22.5″ height or higher. TRU Corners also feature Ripple Wire for cable ties allowing you to attach rope lights (not included), advertising and personalized signage.
Each lower TRU Corner set IS SOLD AS ONE COMPLETE 4 CORNER RINK. This includes 1 piece per corner each equalling a 11.12″ H x 60″ L arc length and is comprised of 4 pieces per rink.
IF YOU WISH FOR A 22.25″ corner height option as per above image see below:  colors are limited!
Option 1.  1@ Lower TRU Corner 11.25″ H.
Option 2.   2@ stackable TRU Corners for 22.25″ H features white puckboard Dasher face plates.  Plexi unavailable . White puckboard will be stunning for both upper and lower tiers.
PLEASE CALL THE OFFICE FOR SHIPPING 1-800-448-6648
Please Note: The TRU Corner system will incorporate with every board design we have seen:
Plywood
2 @ 2″ x 12″s (equals 22.25″ H) on 25th Anniversary Edition
Others


Board Options

for the Ultimate

*Presto Install 25th Anniversary  Edition 11.25″H

Board Option:  SOS (step over sides and safety on skates) at a height of 11.25″ and made from 2″x 12″s and clad with white Puckboard and accented with the colors of your choice.  These amazing boards can be DIY prefabbed in your garage and Presto Installed when it's time to set up your rink. Your results are an ultimate looking rink with your prefab done previous and Presto Installed at the perfect time you choose. Different geographical regions have winter hit at different times and you can be ready!! Call us for discussion on this look!

*Presto Install: The Presto Install feature applies to all set up and tear down. The DIY original assembly of all colored Puckboard add on's has a time commitment. Leave all puckboard bling attached at seasons end. Once you are done your original assembly all succeeding tear downs and set ups would qualify for the Presto Install as you will only need to attach your bling once. ProPanels and TRU Corners are meant to be installed on a level site for best results.

If you wish NOT to DIY Pro Panels  We do the work!